Halloween is coming! YAY! for that!
I am really looking forward to that because I will host a Halloween party at my store!
For those of you who don't know: I have a huge cellar under the shop and it is nearly unused because it is a REAL cellar. You know? A dark, creepy dampish one! So my boyfriend thought it would make an awesome party location for Halloween. He will lend me his fog machine and his LCD projector. We still think about the movies but we tend to some oldschool stuff like Frankenstein's bride... If you have any good ideas for a Halloween party, just write me =D
I still think about my costume... At first i wanted to make the creepy girl from "The Ring"
But last week I saw Hunger Games and I was totally amazed about Effie Trinket. I am not a big fan of the movie(maybe I am too old) but all the costumes of the Capitol people are so amazing. The whole look is so unique and well sophisticated. All these bright nice coulours and the awesome make up and hair styles! But it is interesting how they managed to make it still look kind of weird and a bit depressing. Maybe it is the huge amount of black they used. It's really unusual to use black as clothing colour for people in the backround when it comes to movies.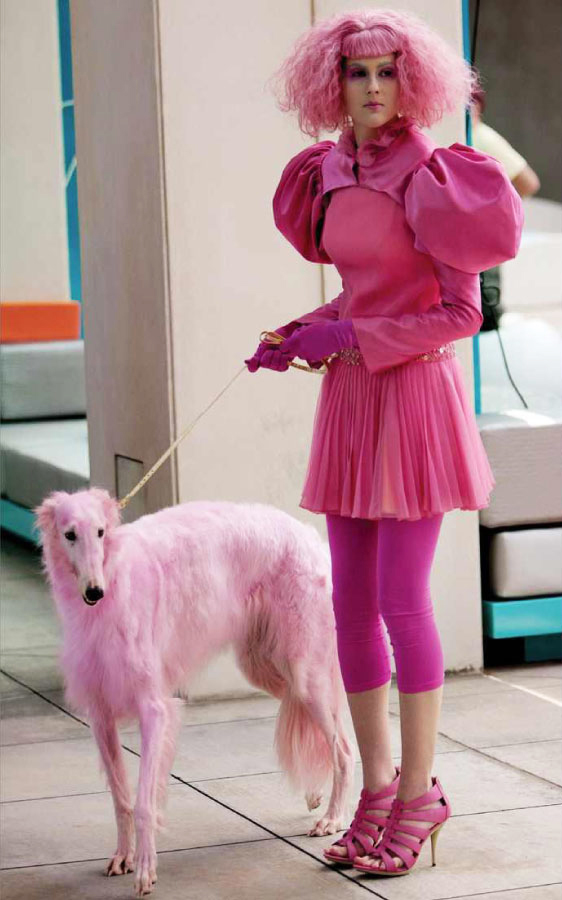 So I decided for this Effie Trinket outfit. This will be a lot of work but I am the host... I have to look amazing!
This strange collar shape will give me a lot of trouble and what kind of shoes is she wearing? Can't find proper pictures... And the bracelets? And this thing on her head? >__<
I am still looking for a good wig! If you have any advice where I can buy one, please write me!
I hope I will not end up buying 4 meter fabric and stuff but can't finish it in time so everything will be screwed and i have to make "the ring girl" costume within one night haha...